This week's summary of notable health and cancer news:
Making Sickle Cell Disease a Manageable Illness
The New York Times considers the progress that's been made in treating sickle cell disease. Thanks to early screening and intervention therapies, what was once a death sentence is now a disease that can be managed well into adulthood. There's also a cure–bone marrow transplantation–which the Times estimates that some 400 patients have gone through.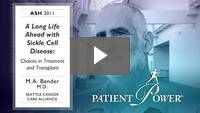 Transplantation for sickle cell patients is something that SCCA's Dr. Michael Bender is well-acquainted with. In this interview from the 2011 American Society of Hematology Annual Meeting, Dr. Bender speaks to the advances in treating sickle cell disease and the promise that transplants offers to patients–especially younger ones.
Cancer in over 65s predicted to treble by 2040
Given that age is the biggest risk factor for cancer coupled with the fact that life expectancy is increasing, perhaps this study, reported on by BBC, shouldn't be so surprising. Still it's sobering to think that one in four over the age of 65 will be affected by cancer.
A Chicken in the Oven

The Huffington Post reports on a study that links pan-fried meat with higher rates of prostate cancer. The study surveyed 2,000 men and of all the meats that were cooked, hamburger seemed to increase the risk of advanced prostate cancer the most. Baked poultry, on the other hand, was linked with decreased prostate cancer risk.